Lupita M. Roca, DDS, is pleased to be able to offer beautiful smiles to her neighbors in Arlington, Virginia, as well as Falls Church, McLean and many more of the communities in the DC Metro area.Dr. Roca was raised here in Arlington, Virginia. She attended St. Agnes Catholic Elementary School, continued on to Georgetown Visitation for high school and then obtained her bachelor's degree in psychology and pre-medicine from the University of Mary Washington. Finally living out her dream of becoming a dentist, she graduated with her Doctor of Dental Surgery degree from the Medical College of Virginia- Virginia Commonwealth University. Out of 100 students in her class at graduation she won the award for top student in periodontics and pediatric dentistry. She worked with her first patient in her father's dental practice a couple months after graduation. Through the years, she has gained a great deal of postgraduate education in the areas of implantology, periodontics (gum disease treatment), pediatric dentistry and cosmetic dentistry.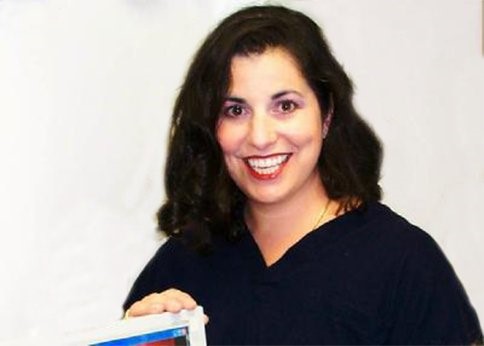 Focused training in Invisalign® clear aligners, myofunctional orthodontics, sleep apnea treatment and more have allowed her to offer a variety of treatments for her patients to achieve their best smiles and greater oral health. She recently obtained certification in oral myology from Santra Holtzman and Neo Health Services INC, which is the study and treatment of oral and facial muscles as they relate to speech, dentition, chewing/bolus collection, swallowing, and overall mental and physical health. She is a member of the Virginia Dental Society, the Northern Virginia Dental Society, the American Dental Association®, the International Affiliation of Tongue-Tie Professionals, the American Academy of Physiological Medicine and Dentistry, the Airway Health Foundation, American Laser Club, and TBI Ambassador. Dr. Roca is also a founding member of ASAP Pathway study club. It is a group that meets monthly to share cases and learn the latest research and information on children's and teens treatment options to help get the ideal sleep and growth and development. Dr. Lupita feels that the field is growing so quickly she wanted to be part of collaboration with other colleagues to learn as much as possible to provide the latest and best way to offer early intervention and prevention of sleep disorders for all our children. Having grown up in a family of dentists, Dr. Roca has always had a passion for dentistry and people. She is the youngest of six children, a wife and a mother of two. Dr. Roca is married to Ted Crowley for the last 30 years and has two full grown children. Both kids went to St James Catholic School in Falls Church for grade school. Patrick age 25, is. a graduate of Gonzaga College high school , College of William and Mary and recently graduated from Wake Forest School of Law. He is currently working for a judge in West Virginia. Abbie, age 22, graduate from Dr. Roca's alma mater, Georgetown Visitation High School and College of William and Mary. Abbie has moved to Arizona to begin 4 more years of study at the South West College of Naturopathic Medicine to become a Naturopathic Physician. Dr Roca enjoys spending time with her husband and children, watching movies and traveling. She really enjoys snuggling with her two dogs Lucy and Lily. She stays active in her community by volunteering at the Northern Virginia Free Dental Clinic in Fairfax, Virginia, and giving wellness talks at nearby schools. She loves making her patients smile and describes being a dentist as "a magical experience."
Dr. Roca is excited to meet you and discuss your dental needs. Call our office today at 703-237-7622 to schedule the first step toward your healthiest smile.