A Smile Makeover in as Little as Two Visits!
Our office features Lumineers®. If you have misshapen teeth, unsightly gaps or deep discoloration, our porcelain veneers may be the answer. Veneers are thin porcelain coverings that fit over and are bonded to your teeth. They look natural and are made from the most advanced dental ceramic available. Lumineers are as thin as a contact-lens and super translucent. Since they are so thin, little to no tooth reduction is necessary. Often times, you won't even need a shot! They are made from patented Cerinate™ porcelain, so they're as durable as they are gorgeous.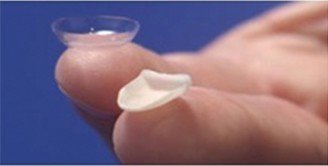 They are truly contact-lens thin, so you do not look like you have Chiclets on your teeth!
Actual Patient Before and After Photos
First visit to office to fix her smile.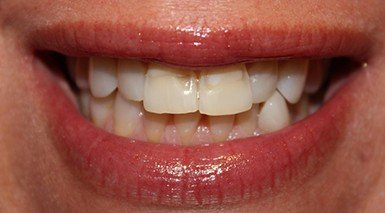 Fixed bonding and started Invisalign® today.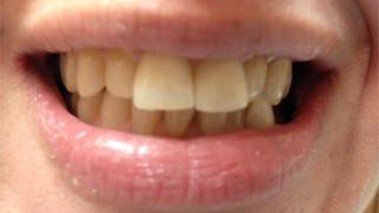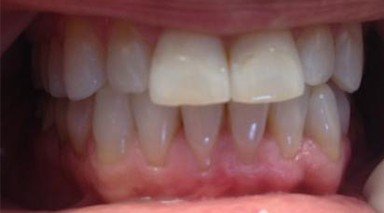 Same patient before Invisalign treatment.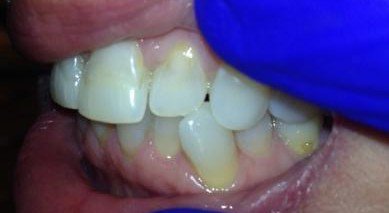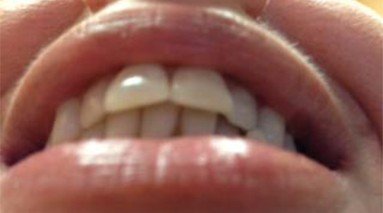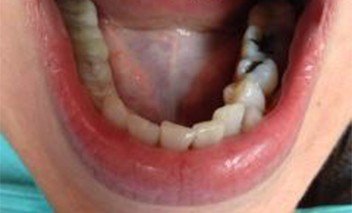 Same patient after her Lumineers were cemented in place.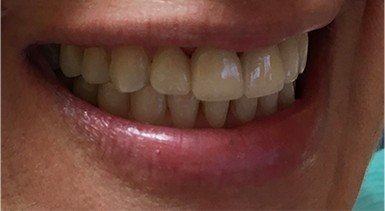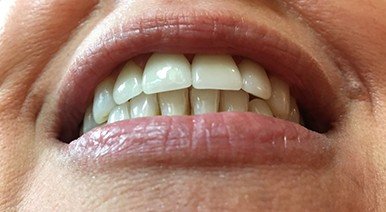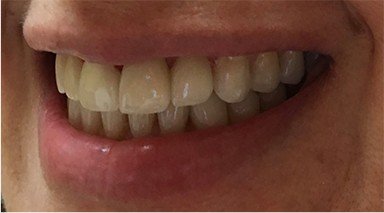 Same patient after her Lumineers were cemented in place.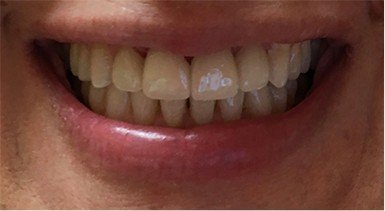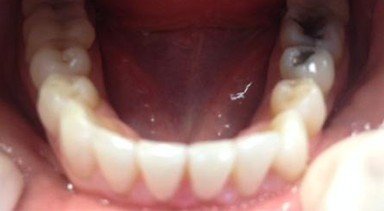 Questions and Answers About Lumineers
How are Lumineers different from traditional veneers?
Lumineers are unique in that they are ultra-thin (approximately 0.2 mm) and highly translucent, allowing them to replicate the natural appearance of enamel. While traditional veneers are much thicker, requiring the grinding down of your original tooth structure, Lumineers are so thin that little to no tooth reduction is necessary. Additionally, the durability of Lumineers allows them to resist wear and remain resilient, lasting over 20 years. Arlington Smile Center, however, will not run the risk of leaving you with a bulky smile, so after a careful discussion of options with her patients, Dr. Roca will recommend the areas of your teeth that are bulky and explain how removing the tooth structure that is bulky without any anesthesia can often make a difference between a fake-looking smile and a natural smile.
Is the Lumineers procedure painful?
Rest assured, the Lumineers procedure is a completely pain-free way to reshape and permanently whiten your teeth. Because they are ultra-thin, in most cases, you will get a perfect fit without shots or grinding down the original tooth structure. Once the procedure is completed, there is no post-placement discomfort or sensitivity, which means Lumineers will look natural and feel comfortable from the moment they are placed.
Are there any other Lumineers?
No. Lumineers are exclusive, one-of-a-kind products of the DenMat Lab, one of the nation's largest manufacturers of professional dental materials.
I think I need braces, but I really don't want to go through the inconvenient, unsightly, and time-intensive process. Can I get Lumineers instead?
In most cases, yes! We will be able to evaluate your teeth and decide whether orthodontics is necessary or the ideal choice. If you do not have severely crooked teeth, Lumineers will reshape your teeth, making them look straighter and more uniform, as well as whiter, something you don't get with braces. However, at Arlington Smile Center, we always believe the least amount of dentistry is the best amount of dentistry, and often, a few months of Invisalign® is all you need to get a smile that will dazzle you for years to come. Dr. Roca will talk to you about what she would do if it was her smile and allow you to make the choice of what is best for you.
What if my teeth are stained dark yellow or grey? Will Lumineers be able to block the color of my naturally dark teeth?
Yes. Although Lumineers are easily created as thin as possible, sometimes it is recommended to take slightly more tooth structure off so that the Lumineers can be made thicker in order to hide the shade of the tooth underneath. However, Arlington Smile Center also regularly uses a cement called Block-Out® cement in many different shades. This cement does an outstanding job of masking the color of the teeth underneath and allows us to still make ultra-thin Lumineers, giving a non-bulky, symmetrical smile.
What if I already have a crown or old veneer on my tooth? Can I still get Lumineers?
Yes! The best part of Lumineers is that the ultra-bond Block-Out cement lets us bond the Lumineers to any surface underneath. So if you have dark silver by your gumline, for example, Lumineers can be bonded over your existing bridge, crown or veneer, producing a beautiful result.
Can we pick any color of the Lumineers? I don't want my teeth to be fake-looking or toilet-bowl white.
Yes! We aim to please. At Arlington Smile Center, we much prefer for every smile that leaves our office to look so natural no one knows you have Lumineers. That is ideal for us. Often, however, our patients feel they are paying for teeth and want white teeth. We understand that everyone is different, so each smile is customized for each patient according to style, shape, and shade of the Lumineers.
Preview Your Smile With LumiSmile®
See how your new smile will look before any treatment! Cosmetic imaging allows us to show you what can be done with your teeth and smile, so you know what to expect before we begin. Computer images of your teeth and gums can be shaped, replaced, added or lightened, resulting in your new smile. It is exciting to actually see your treatment goal.
Schedule a consultation by calling 703-237-7622 for an opportunity to see your great new smile in advance!