Dazzling Results in Just One Visit!
The only way to get your teeth their whitest is by using professional-strength whitening. We offer in-office KöR® whitening and Lumibrite® power whitening. Now you can have brilliantly white teeth, without stains or darkness, in just about an hour. The results can last for years!
DenMat, the company that manufactures Lumibrite, has a long history of producing excellent-quality products, backed by extensive clinical testing.
Before Whitening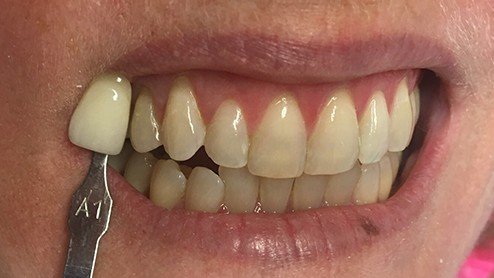 After Whitening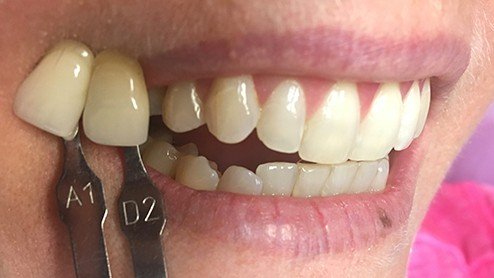 Lumibrite Chairside Whitening System
The Lumibrite Chairside Whitening process is an in-office bleaching process featuring a strong hydrogen peroxide bleaching gel (35% solution) and a powerful LED activation light used to enhance the gel's effects. It is designed to deliver maximum whitening effects (10+ shades) in 60 minutes or less. It must be performed by a professional. To prevent sensitivity issues, the system also features a desensitizing enhancer.The powerful gel comes in at a whopping 35% hydrogen peroxide percentage. That's about as strong as it gets in the whitening field, and it's the major action behind the whitening. Teeth are first cleaned to remove tartar and surface stains, then gums are painted with a "Paint-On Dental Dam" to prevent damage to soft gum tissues. Additionally, Dr. Roca will apply a lip moisturizer to protect the soft lip surface. Next, the Lumibrite desensitizing gel is applied to the teeth before applying the whitening gel.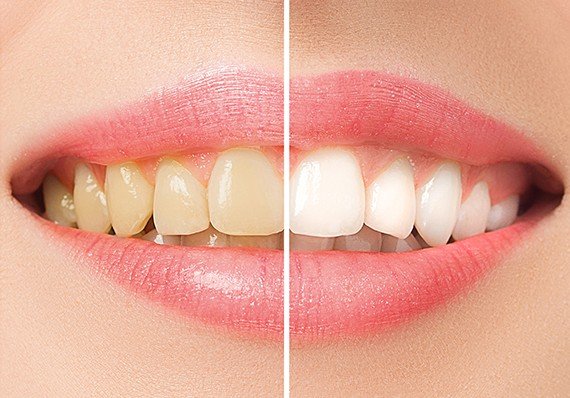 Once the teeth are coated, the Sapphire® curing light will be positioned at the mouth and set for 30 minutes. We will check your progress every 15 minutes or so. If it's determined you need another 30-minute session, an additional layer of desensitizing gel and whitening gel are applied.
Aftercare: Maintaining Whitening Effects
To help maintain the look of your newly whitened smile, you should avoid drinking red wine, dark sodas, coffee or tea; eating red sauces, mustard or ketchup, blackberries, or soy sauce; and using tobacco products. Use of such products can stain your teeth and diminish the effects of the Lumibrite treatment. At the very least, please wait for 72 hours after the whitening procedure. Above all else, stay away from any toothpaste with stannous fluoride and all oral health mouth rinses. Many of these oral health rinses have ingredients that stain and discolor teeth, resin and porcelain. The only fluoride you should be using to prevent stain is sodium fluoride.
Tobacco products will stain teeth even after whitening treatments. As such, Dr. Roca suggests you quit using them. Maintain an appropriate oral hygiene (brushing and flossing) regimen to prevent stains from reforming and see us at least every six months for your regularly scheduled teeth cleanings.
Toothpastes containing whitening agents can help maintain the results of the procedure. You want to stay away from any mouth rinses and toothpastes that contain stannous fluoride because they will often leave a brown stain on your teeth. Additionally, you may want to purchase some of the Lumibrite take-home whitening gel, which is available for purchase in the office. If you wear retainers, the gel is perfect to place inside your retainers or guards for bleaching your teeth at home.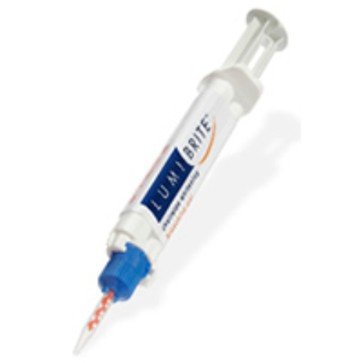 Lumibrite Take-Home Whitening Gel
Following in-office treatment, a Lumibrite take-home whitening kit is recommended for maximum whitening and maintenance. However, the at-home kit also may be used without in-office whitening. The home whitening kit consists of a set of custom-made trays and gel. Whitening trays, created from impressions taken by Dr. Roca, are used to apply the gel to your teeth at your convenience.
Treatment time for take-home kits varies depending upon the formulation, as well as the desired results. The 32-percent formulation requires a mere three-minute treatment each day for a period of two weeks. The 16-percent and 22-percent formulations require one or two treatments, applied for one or two hours a day, for two weeks.
Considerations
Similar to other whitening products, Lumibrite is not recommended for children under 12 years of age. It also is not recommended for patients who are pregnant or nursing. Treatment outcomes vary case to case, and results may not be as effective for some as they are for others. Also, anyone with an allergy or sensitivity to peroxides should avoid using the Lumibrite system. Only your dentist can determine whether Lumibrite, or any other whitening system, is appropriate for you.
Example Of One Of Our Patients With KöR® Whitening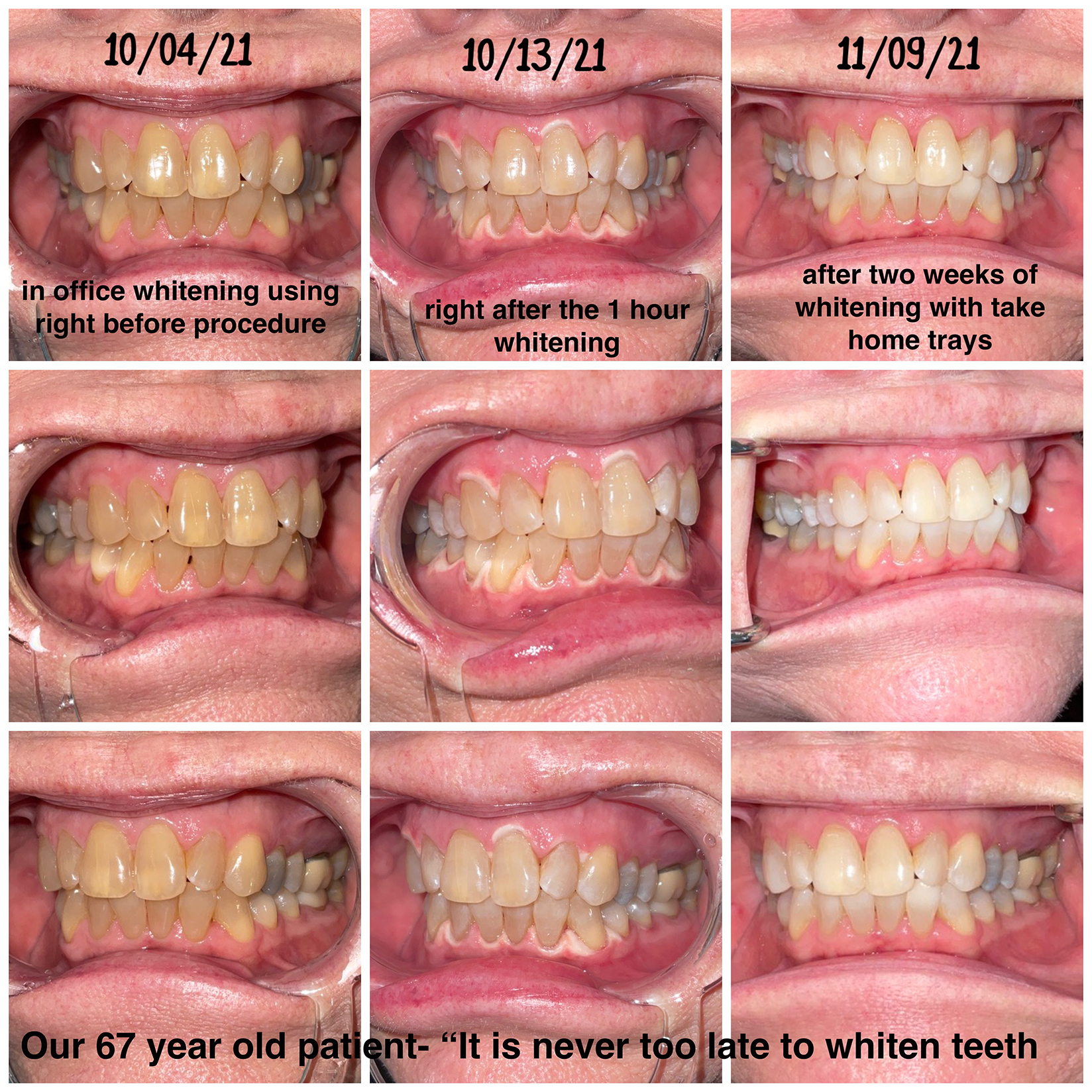 KöR® Teeth Whitening System
Here at Arlington Smile Center we use the KöR® whitening system to brighten your teeth and enhance your smile. Widely recognized as the world's most effective whitening system, KöR offers a cost-effective solution for removing stains and discolorations from your teeth. Whether you are receiving home whitening or removing severe tetracycline stains, KöR can help!
How Does KöR Work?
KöR whitening uses an innovative delivery system to brighten your smile. The proprietary KöR Dual-Activated, Tri-Barrel™ Hydremide® Peroxide formulation and delivery system delivers phenomenal teeth whitening results without lights or lasers. This system is designed to be as gentle as possible while remaining highly effective, giving you the results you desire in complete comfort. There are a variety of KöR whitening options for use both in-office and at home, including:
KöR-Night™, which allows you to whitening your teeth while asleep.
KöR-Day™ for daytime at-home whitening. This is a great option for patients who prefer not to wear or are unable to wear whitening trays while asleep.
KöR Max is a versatile and super-effective whitening system that combines at-home whitening with a single in-office whitening visit.
KöR Ultra, which delivers astonishing results for teeth with staining from fluorosis and age. This option combines in-office whitening with a few weeks of at-home whitening.
KöR Ultra-T to remove tetracycline stains that in the past were considered untreatable.
Dr. Roca will discuss your smile goals and whitening options with you to find the type of KöR teeth whitening that is right for your needs and which will help you achieve the look you desire.
For more information, please contact our office today or visit the KöR whitening website!
Schedule a visit by calling Arlington Smile Center at 703-237-7622, and discover how teeth whitening in Arlington, Virginia, can give you a brilliant new smile!