Missing Teeth? Why Not "Grow" New Ones?
Dental implants are the ideal way to replace lost teeth. From the front of the mouth, where they are most visible, to the back, where they provide stability to chew a full variety of foods, implants can help you recapture a beautiful and healthy smile. Unlike bridges or removable dentures, which sit on top of the gums, dental implants are placed under the gums. The "tooth" placed on an implant appears life-like because it comes through the gums just like the original did — it's like growing a new tooth! Implants can be used to replace any number of lost teeth. Even people with no teeth can benefit from implants, which can replace their dentures with new teeth that don't move around when they talk and don't need to be taken out at night. Implants can also be used to "lock in" dentures for a secure fit. Patients love that we handle the entire process from implant placement to crown fabrication, so there's no need to be referred to another office.
Addressing Bone Loss
One of the main concerns when it comes to replacing missing teeth with dental implants is bone loss. Healthy teeth stimulate the jawbone, keeping it dense and strong. Periodontal disease, trauma and tooth loss can lead to immediate decline, which can make placing implants difficult. Dr. Roca has the experience and skill necessary to perform bone grafts, which can contribute to the successful placement of dental implants. This means many more patients are candidates for restoring a full, natural-looking smile! Even better, many shorter implants have surfaced that we have had great success using, even with little adequate available bone.
Actual Patient of Dr. Roca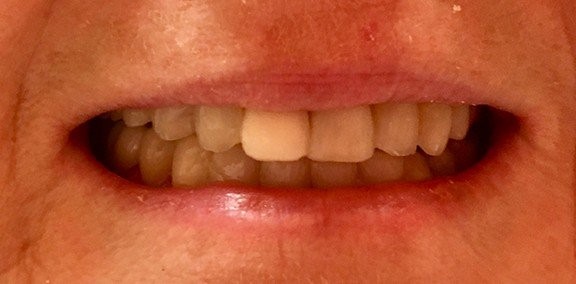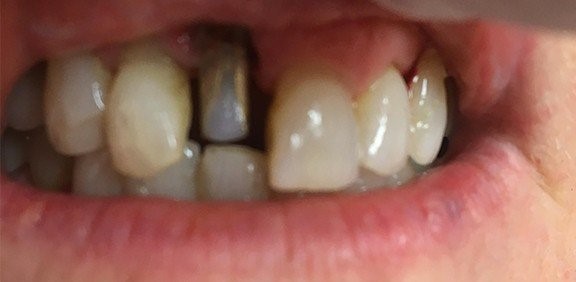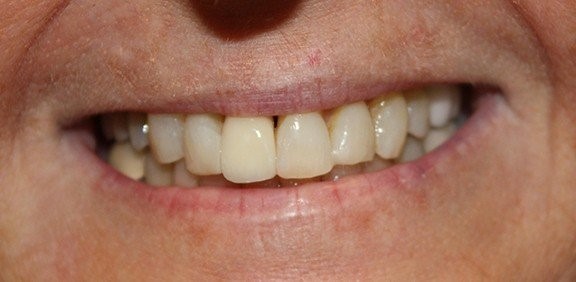 As you can see on our actual patient, her original implant crown looked very opaque. We whitened her teeth and made her a new implant crown, and it looks so much more natural. It is very hard to crown only one tooth and make it match, but our lab did a fantastic job.
Don't live with missing teeth any longer! Call Arlington Smile Center at 703-237-7622 for an implant consultation today to determine your suitability for dental implants.