Addressing Improper Bite Alignment and More
Your oral health has a far greater impact on your overall health and well-being than what is typically addressed during regular dental cleanings and the occasional restorative treatment. In fact, many patients have chronic problems that they may not realize began in their mouth! Dental problems such as bruxism (teeth grinding and clenching), TMJ disorders, gum disease, crooked teeth and missing teeth can lead to headaches, migraines, toothaches, chronic bad breath and a less attractive appearance.
Even holding your tongue in the wrong position or swallowing incorrectly can contribute to many health issues that we have learned to live with, but that can easily be corrected.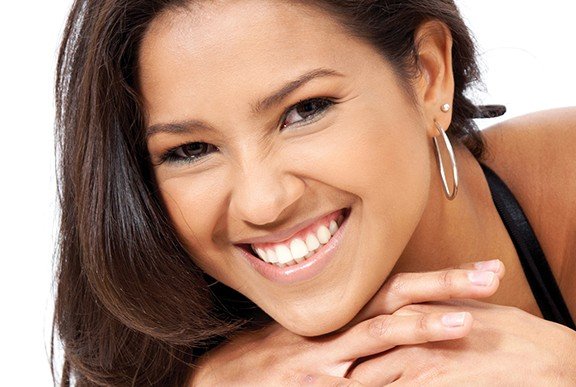 When you visit Arlington Smile Center, Dr. Roca will meet one-on-one with you to discuss your concerns, your current oral health and symptoms, and your goals for your oral health and smile. This meeting will include a thorough examination of your mouth as well as digital X-rays and photos. Our dentist will then be able to create a treatment plan to help you achieve a healthy, beautiful smile as well as alleviate any discomfort you may be experiencing. Your plan will also include the possibility of phased treatment and financial planning to work with your budget. Our team will be happy to help you maximize a few years of your dental insurance benefits to reduce your out-of-pocket expense. Before you have your new crowns cemented in place, you are given temporary crowns to wear for a month or two that will look exactly like your new smile to make sure that you like the color, size and shape and that your speech sounds correct. We want to make sure you are super-pleased with the results, and we find that if you have a chance to wear the temporaries for a short while, you will be confident that you are truly investing in the smile of your dreams.
Trying Out Your Smile
This is an example of the progression of one of our full-mouth rehabilitation cases. First, we take photos and impressions, then we send them to our lab.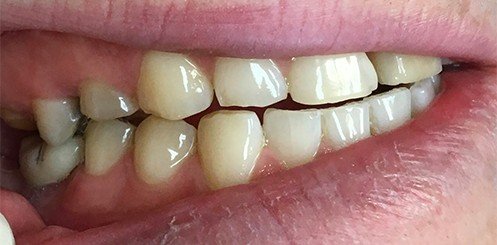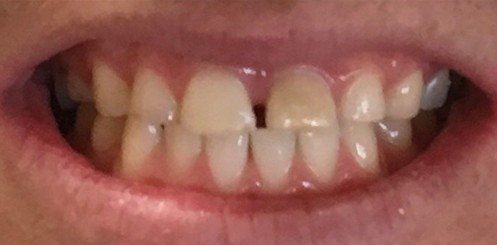 The lab makes us a wax up that we use to make temporaries. We send the patient home with temporary crowns to make sure the patient can speak well and feels comfortable with their new smile. Using a temporary first allows us to know what changes need to be made to the final crowns before the lab fabricates them. Below, you can see the wax up of crowns the lab sent for my approval, followed by the fabricated porcelain crowns before glaze and finally the temporary crowns.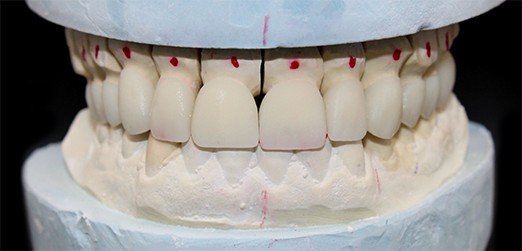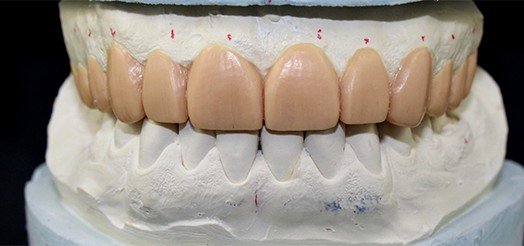 After about a week, if the patient feels comfortable with their speech and is thrilled with the shape and style, the lab will send us the final product, which you see below. Once both Dr. Roca and the patient approve the temporaries, they are glazed and the patient comes in to get the crowns seated all at one time.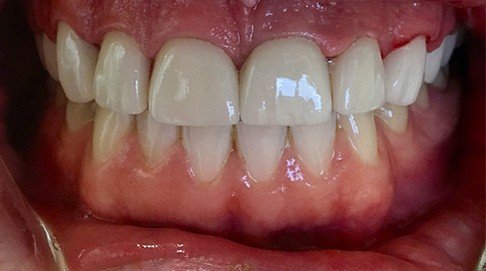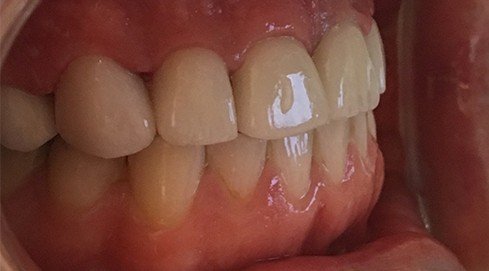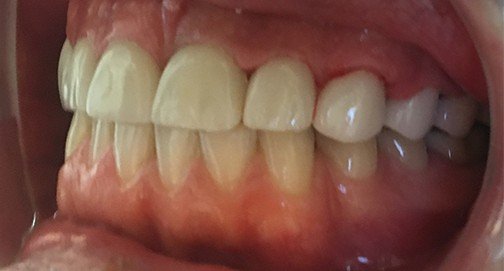 Schedule a visit by calling Arlington Smile Center today at 703-237-7622, and learn whether a full-mouth rehabilitation in Arlington, Virginia, could be right for you.