Beautiful Smiles Made Easy!
Many patients would love a cosmetic makeover but seek alternatives to veneers or other cosmetic procedures. Were excited to offer such an option with Snap-On Smile®. Do you want a nice smile at a very affordable price? Snap-On Smile might be right for you. There is no tooth preparation required, no adhesives, and best of all, no drilling or shots. The appliance simply fits over your teeth. It's easily removable and can even be worn while eating. Snap-On Smile can last for years but is affordable enough to be a temporary solution. Many patients get Snap-On Smile to wear on their wedding day or for wedding photos. It is a wonderful way to get a beautiful smile for your big day or while searching for a new job, without all the necessary dental work required for permanent crowns or veneers. Our patients tell us that they are impressed by the natural look and feel of Snap-On Smile. We think you will be too!
Snap-On Smile Best Practices
Alignment — Perfection is not always best. We consider it a priority to discuss relevant considerations with the patient to help ensure the final smile design meets their expectations. We are always cognizant of the end result and the size of the teeth. Correcting alignment, especially on anterior teeth, and using the most prominent tooth as the guide can sometimes add too much bulk, and Arlington Smile Center takes all this into consideration. We follow and work within the boundaries of nature and the patient's natural dentition when possible. We always have the lab add minimal bulk and length to all the teeth unless the patient has undersized teeth or requests this look.
Lingual Alignment (the back side of the teeth) — We always correct the front alignment of the teeth so it looks like you had perfect braces, but we do not generally correct the back of the teeth. If we fill in lingual alignment by adding bulk, it can impact speech and have little benefit unless we are correcting one or multiple food pockets.
Tooth-Borne Retention — Snap-On Smile relies upon tooth-borne retention. Worn dentition, such as the kind severe bruxers (teeth-grinders) often have, rarely possesses adequate undercuts. A minimal height of 4 mm and at least one retentive tooth on the right and left posterior side, as well an anterior tooth from the canine forward, is required (a tripod effect). A lack of retention can be addressed by adding composite and creating retention or undercuts if necessary or recommended by the lab.
Our lab can digitally photograph and email images in the design phase or any phase of production. This is an extremely valuable tool. Complex cases often have to be designed, reviewed and modified as the lab and doctor collaborate. This will help ensure the lab, patient and doctor are all on the same page. Dr. Roca enjoys getting your feedback on these cosmetic cases, since, after all, it is your smile.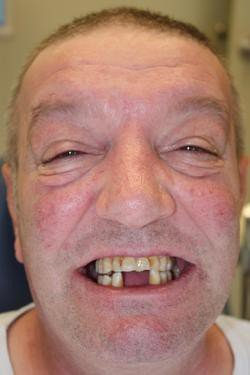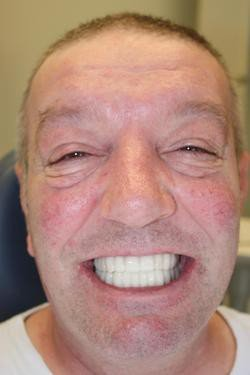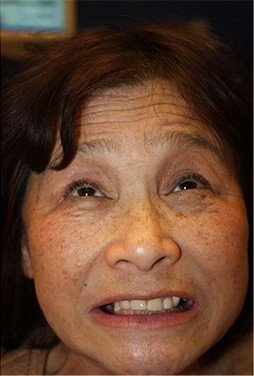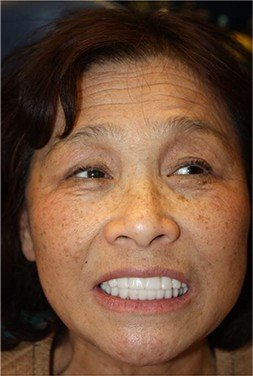 Clinical Indications for Snap-On Smile at Arlington Smile Center

If the patient is interested in a more aesthetic alternative to partials and flippers that has the following benefits:

idealizes the entire arch rather than just replaces missing teeth
has all the teeth match in color
If the patient is looking for cosmetic smile enhancement

If the patient needs a provisional implant
If the patient is looking for cosmetic smile enhancement

Snap-On Smile better aligns teeth, brightens and lightens teeth and can close unsightly spaces

If the patient needs an interim smile, which serves as a "trial smile" as patients transition or wait for more permanent treatment
If the patient has a vertical bite, we can use Snap-On Smile to open it.
If the patient is medically compromised
Emotional Indications That We Hear From Patients Often
Many Snap-On Smile patiuents desperately need and want to look better. It is important to keep in mind that Snap-On Smile fills the emotional needs of many of our patients and their desire to experience what a pretty smile would look and feel like.
Below are just a few examples of why our patients choose Snap-On Smile:
"I just want to look pretty for my wedding."
"I'm tired of people cringing when I smile, so I don't."
"I'm embarrassed; I have a family reunion coming up."
"I have a family portrait where I want to look better."
"I hate the way my smile looks."
"I thought I would never experience what a pretty smile looks like on me."
"I need to find a job, and I know my smile hurts my chances of landing one."
"I thought I was destined to have an ugly smile the rest of my life."
"My grandson used to make monster noises when I would smile."
Sadly, far too many patients leave dental offices every day without hope due to the fact the treatment plans presented were far too costly or extensive. Together, we can help you gain some confidence and change your outlook on life with Snap-On Smile.
Questions About Snap-On Smile?
Does Snap-On Smile hurt?
The procedure is completely painless. All we need to do is take an impression of your teeth. It requires no shots, no drilling and no removal of your natural tooth structure.
Will wearing Snap-On Smile damage my natural teeth?
Snap-On Smile will not damage your natural teeth. Simply follow the use and care instructions.
Will Snap-On Smile stain?
Snap-On Smile does not stain easily, but just like with your natural teeth, certain products such as coffee, wine or soda can cause staining. Your Snap-On Smile comes with a cleaning kit to help you maintain its wonderful appearance.
How many teeth does Snap-On Smile cover?
Snap-On Smile is designed to cover your entire upper arch or bottom arch. We will work with you to finalize the best smile makeover for you. Often, patients just want a few teeth covered or one tooth replaced while they wait for an implant. Not a problem — we can make any length you need, as long as you have enough teeth for the appliance to snap on top.
Will I need to get replacements for my Snap-On Smile?
The Snap-On Smile appliance is expected to last several years with proper care. This is the same length of time as other removable appliances such as partial dentures, brux guards or night guards. Like everything, it will depend on how well you take care of it.
How long does the process take?
During your first brief appointment, we will determine if you are a candidate and, if you are, we will make an impression of your existing teeth. In a few weeks, your new Snap-On Smile will be ready, and you can come in for a second brief appointment. We'll simply pop it in after a few minor adjustments, and you can wear it home.
How do I take care of my Snap-On Smile?
A special cleaning solution is supplied when you first receive your Snap-On Smile. Refills are available and can be reordered through our office.
Is Snap-On Smile like wearing dentures?
Snap-On Smile is removable and simply snaps in and snaps out. It is held in place by your natural teeth and does not require adhesives or glue of any kind.
Will it make my teeth look bulky?
We will not make a Snap-On Smile if it will look bulky. We will only recommend a Snap-On smile if you are a good candidate. [practice_name] has been doing Snap-On Smile since they were first fabricated, and Dr. [dr_last] has met very few patients who were not good candidates.
Will I talk funny with the Snap-On Smile on top of my teeth?
Often, when patients are missing teeth, they may have a lisp or trouble saying certain words, so in these cases, a Snap-On Smile may actually improve their speech. However, as with anything new, there is a learning curve. If you practice reading out loud to yourself, within a couple of weeks, you will be talking just like before, if not better.
Schedule a consultation by calling 703-237-7622 and discuss with our dentist whether a Snap-On Smile is the right option for you.
Snap-On-Smile Limited Warranty
Den-Mat Holdings, LLC ("DenMat") warrants, for a period of one (1) year, from the date the original Snap-On Smile is received at the office of the prescribing doctor, that the appliance will be free from defects in materials or workmanship. In the event of a defect in materials or workmanship, the exclusive remedies are limited to the appliance covered by this warranty and are listed below. DenMat's warranty obligation is limited to a one-time replacement of the Snap-On Smile appliance, and DenMat makes no warranty, express or implied, with respect Warranty to the replacement arch. DenMat will not repair or replace existing crowns or bridgework, nor will DenMat cover any dental fees associated with the Snap-On Smile appliance repair or replacement. This Limited Warranty only covers defects in materials and workmanship to the original Snap-On Smile appliance, and does not cover breakage or loss during ordinary consumer use. It does not cover damage caused by accidents, abuse, failure of supporting tooth or tissue structures, grinding, bruxing, or improper dental hygiene. To obtain warranted coverage, please return all working models, previous impressions, and original product for evaluation. If a discrepancy arises you may be subject to additional fees. If the original product is not returned, a return deposit will be invoiced until the product is returned.
New Patients
Contact Us
Hours
Mon 8:00 a.m. to 4:30 p.m.
Tue 8:00 a.m. to 4:30 p.m.
Wed 8:00 a.m. to 4:30 p.m.
Thu 8:00 a.m. to 4:30 p.m.